Dimensões:
0.00 x 0.00 x 0.00 in
Volume:
0.00 in
3
Aumentar Zoom
Reduzir Zoom
Upload de arquivos usando:
Projetado em:
Editar Volume
Apagar arquivo
Arraste o arquivo STL ou OBJ aqui
para obter um orçamento instantâneo...
Calma lá...
Nosso uploader funciona melhor em navegadores de desktop.
Envie a si mesmo um lembrete para voltar.
Sua peça é muito pequena ou não está usando a medição correta.


Tamanho mínimo da peça: 1cm x 1cm x 1cm or 1 cm3
Sua peça é muito grande ou não está usando a medição correta. Entre em contato por email para que possamos prosseguir o orçamento. [email protected]
Tamanho máximo de peça: 25cm x 25cm x 30cm or 18,750 cm3
×
Arquivos de peças
Faça login para usar os arquivos de peça.
×
Editar volume de arquivo
PROSSIGA COM CUIDADO!
Este recurso é apenas para usuários avançados.
Se o volume da sua peça estiver sendo exibido incorretamente, você pode editá-lo abaixo e enviar suas alterações para aprovação. Um membro de nossa equipe analisará suas alterações e entrará em contato para processar seu pedido e concluir o pagamento.
×
Build Methods & Materials
Fused Deposition Modeling
FDM printing is one of the more common types of 3D printing technologies. Material is extruded through a nozzle and fused layer by layer to form a part. The resolution is determined by the layer height, which we measure in microns. For reference, the thickness of a single piece of paper is 100 to 200 microns.
Advanced users can control the FDM settings for each part. Feel free to contact us if you have special requirements or still need help.
FDM Resolutions
90 Micron - 0.90 mm
140 Micron - 0.14 mm
190 Micron - 0.19 mm
Max Build Size
300 x 300 x 300 mm
( 11.8 x 11.8 x 11.8 in )
FDM Plastic Materials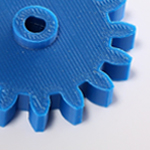 ABS
Economical, tough and lightweight. ABS is perfect for printing concept models, figurines and functional protoypes that require testing.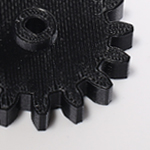 PLA
PLA is biodegradable. It's a great material for rigid prototypes, test fitting part sizes and reviewing the functionality of a product.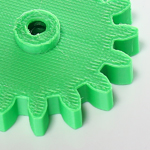 HIPS
Low-shrinkage, matte finish and exceptional surface quality. Great for performance tests on models closely resembling final products.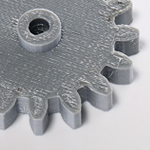 PET-G
Industrial-grade material designed to work in extreme environments. PET-G is immune to UV light and won't degrade over time.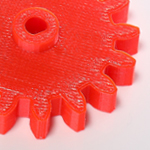 ULTRAT
Exceptional strength and durability. Ultrat is the finest material for rapid prototyping with features similar to injection molded products.